Guided tour. Let us tell you everything about oysters, mussels and lobsters. Take a walk along the harbors with its mussel and oyster cutters and mussel auction. Take a look inside authentic oyster houses that are still in operation. See how the Oyster Wells work and pet a lobster. In the one-hour tour you will be told everything about what makes Yerseke so special. Afterwards, there is a great opportunity to taste the Zeeland oysters, mussels and lobster during the season! You can contact us for guided tours, for tasting: de Oesterij, Josefien Pekaar or Oesters en Bubbels. The tour is for all ages. The rate of the tour is 45 euros, based on a group size of maximum 20 people. Larger groups on request. Do you have specific wishes? Ask us about it, call or email us!

Oysters picking. Twice a day it is low tide, the Oosterschelde then retreats. At that moment the mud flats will dry out and oysters can be collected. This is the Zeeland creuse. In many places oysters lie and grow, which can then be collected by everyone. Oysters often attach themselves to old walls in the water or to chunks of stone. You also see them as, beautiful "flowers", scorched together. It is best to leave these as they cannot be opened later at home. Put on boots and bring a chisel and hammer if you want to knock them off the walls too. A wonderful experience! You can collect oysters up to 10 kilos per person, but there are a number of rules that must be observed. Ask for it, and join us or another guide. The best months to pick up oysters yourself are the months with an 'r' in the name (September, October, etc.). In French you say huitres to oysters, or in other words: 8 (huit) R..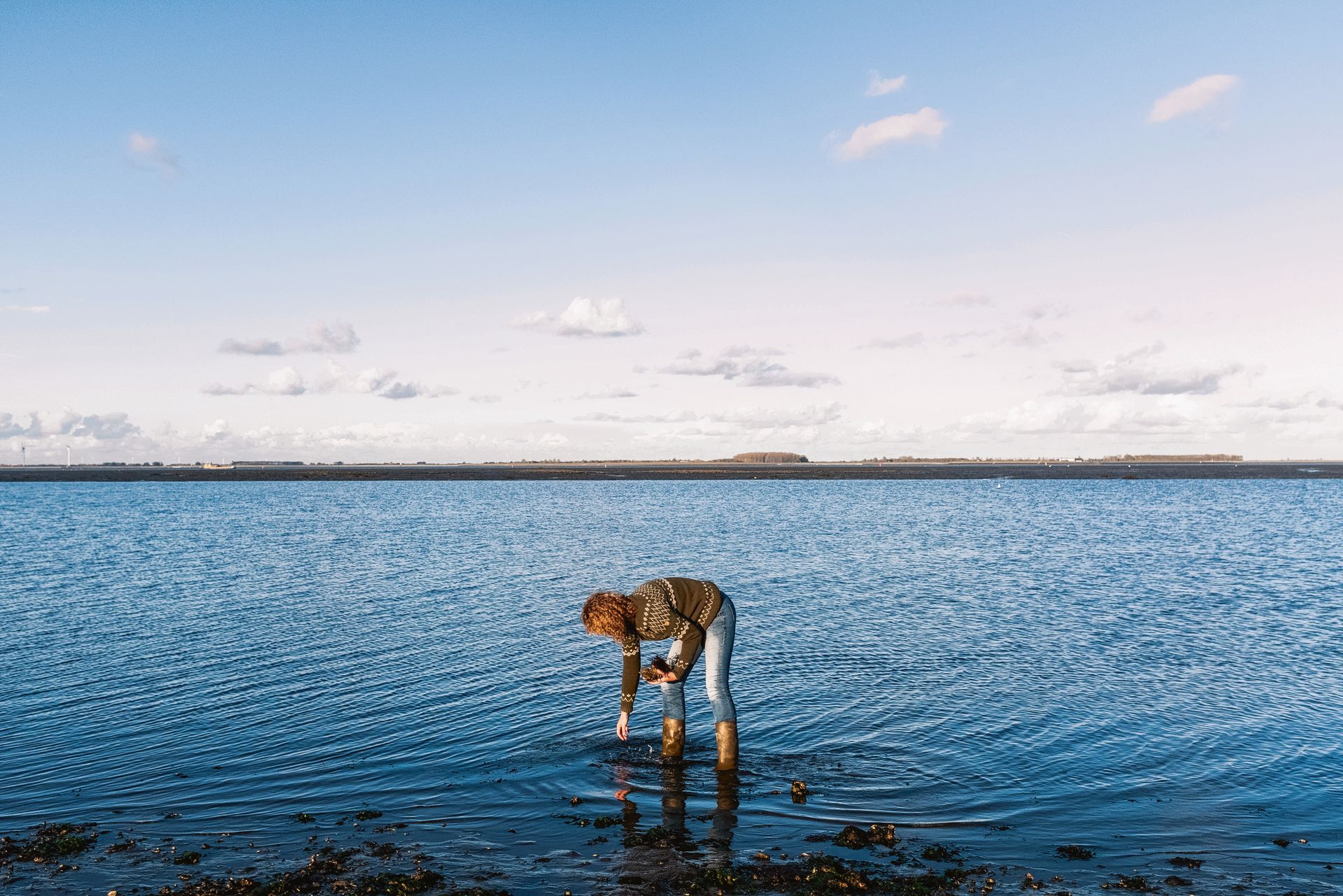 For an impression, read the (dutch!) article in the NRC of December 2018 here
The mussel factory. If you want to visit a mussel factory, you can. This must be arranged in advance and is only possible if they are actually running production. At the moment, Roem van Yerseke is the only factory where we welcome visitors. After the mussels have been fished from the Oosterschelde and before the mussels are in the pan at home, the mussels are carefully cleaned, sorted and packed. There is still a lot of manual work involved. An exciting process to watch! Taking pictures of this is not appreciated due to privacy reasons. If you would like to take a look, ask us about the possibilities.

Boat trip & boat trip with package. There are various sailing options in Yerseke. What we offer is sailing with the Ye57, our lobster fisherman's boat. It is a small open boat with a small cabin. Listen to the story of the Oosterschelde on the water and see the oyster pits, harbors and mussel auction from the water. Jan has lobsters on board all year round, which he likes to bring up, so that you can admire the lobster up close. Because there is hardly anything as ingeniously built as a lobster. Learn all about it on board.
A boat trip is often combined with a tour ashore. It is also possible, if you request it in time, to taste oysters on board and drink a glass of wine. If you have other wishes, do not hesitate to ask us.

Catching lobsters. From the Ye57 you can transfer to a small boat, the fuikenlichtertje. This boat is suitable for 6 people and takes you to the lobster traps where lobsters are caught. Lobsters are taken out of the traps and are given a rubber band around their pincher claw and crusher claw so that they cannot attack us and their fellow lobsters. Besides lobsters you will also find crabs and cuttlefish in the traps. The latter are always put back into the water. The lobsters are taken on board the larger boat to be sold. See a lobster fisherman at work up close!

Sailing with large groups. We also organize boat trips for larger groups. This is to illustrate lobster fishing for large groups as well. From the big boat you can see the lobster fisherman at work. We come on board with the caught lobsters to give an explanation. Anything is possible. This is to ensure that everyone goes home with a great experience in the field of oysters, mussels and lobsters. Shrimps can also be caught on the Oosterschelde. A new experience that we offer is sailing with a shrimp fisherman. Shrimps can also be prepared and enjoyed on board!